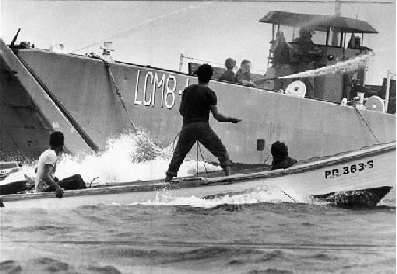 By David Abel | Defense Week | 8/23/1999
VIEQUES, Puerto Rico -- After 100 days illegally camping on a patch of white sand here inside the Navy's premier bombing range, Carlos Ventura boasts more than a deep tan.
The sun-bronzed president of the local fishermen's association, who says he has moved for good onto the eastern edge of the island pockmarked with shell fragments, blown-out tanks and pulverized planes, has helped ensure the Navy doesn't test any more of its bombs here.
And he promises he won't leave until the Navy does.
"We will stay out here as long as necessary," says Ventura, 38, who was recently accompanied by at least 40 idling supporters on one of the range's bomb-strewn beaches. "The Navy has to go. There will be no compromise."
Ventura is one of scores of full-time protestors who thronged here soon after an F/A-18 jet mistakenly dropped two 500-pound bombs a mile and a half from its intended target in April, killing a 35-year-old civilian security guard and wounding four other Puerto Rican civilians monitoring the exercises for the Navy.
In addition to Ventura, protesters on the range include an independence-seeking local senator, the mayor of a town near San Juan who wants to make Puerto Rico the 51st U.S. state and others of varying political stripes fed up with the Navy's 58-year presence on Vieques.
They have become a thorn in the side of Capt. James Stark, the man who oversees Navy operations in Puerto Rico.
Navy cornered
Sitting almost 10 miles away in
the comfort of his air-conditioned office at the sprawling Roosevelt Roads Naval Station, Stark acknowledges the Navy is fighting an uphill battle to preserve its top training site.
"I have been amazed, disturbed, disgusted; I mean I've had a whole host of feelings over this whole issue," Stark told Defense Week. "The entire commonwealth government from the governor on down to the dogcatcher is lined up against the Navy .... I mean the bishop of Caguas was invited to attend an ecumenical service here at the base, and even he refused."
The simmering tension is due to come to a head by the end of this month, when a four-member presidentially commissioned panel chaired by Frank Rush, acting assistant secretary of defense for force management and policy, will issue recommendations on whether the Navy should remain in Vieques.
Conflict over the Navy's ownership of about three-fourths of this 51-square-mile island is nothing new. But this is the first time since the military began practicing bombing and amphibious assaults here in 1941 that Puerto Rico's political parties and environmental and religious groups are united in their effort to oust the Navy.
Puerto Ricans are U.S. citizens but pay no federal income taxes, have little representation in Congress and cannot vote in presidential elections. And when the Navy bought the land in Vieques, the island's governor was appointed by Washington and the territory lacked the political independence to make its own decisions.
No mas
For many of the island's current 9,300 residents
sandwiched between a Navy arms depot and the bombing range, the accidental death of David Sanes Rodriguez on April 19 was the straw that broke the camel's back. They had lived with thunder of exploding bombs almost every other day and sometimes they protested. But this was it.
"We have tried to live with the Navy, and we know they are important for our national security," said Manuela Santiago, Vieques mayor for the past 16 years, in an interview in her small office at the local city hall. "But after the death of David, we had enough. We don't want to wait for another accident. One that might fall in the municipal areas."
Although she says she has had a good working relationship with the Navy for most of her term, she has grown increasingly wary of the sea service's word and now no longer trusts men like Stark.
For her and many residents, the Navy has lost its credibility. She says, for example, she cannot accept dubious statements Navy officials have made about the use of napalm, the firing of uranium-tipped bullets or the service's use of water on the island. And like many, she is suspicious the Navy has something to do with a cancer rate here 27 percent higher than on the main island.
Still, not everyone on Vieques wants the Navy out. An expatriate community of about 400 northerners, as well as some natives, say they fear the island would be overrun by commercialism if the Navy leaves.
"I wouldn't mind if the bombing stopped, but it would probably ruin the island if the military pulled out," said Everett Gallant, 56, a restaurateur from Maine who has lived here for more than 20 years. "People fear it might become another St. Thomas. We live here because the life is slow and easy. We don't want that to change."
National security needs
For its part, the Navy has argued adamantly that it would be a big blow to national security if the service was forced out. Only about 10 miles from the Navy's largest base, Vieques is part of a massive training zone that includes 200,000 square miles of uncongested air and sea space and is the only site where the Atlantic Fleet can do live ship-to-shore shooting involving full battle groups, Navy officials say.
Furthermore, the long-developed infrastructure is worth billions of dollars, including a sophisticated submarine training range between Vieques and the U.S. Virgin Islands of St. Croix and St. Thomas.
And the longer protesters such as Ventura, the fisherman, don't budge and political leaders in Washington refuse to evict them, the more damage it will do to Navy readiness, Stark says.
Already the USS John F. Kennedy battle group, which had its training halted after a 26-year-old Marine Corps pilot missed his target and killed the security guard, deployed with incomplete training. And Stark says he doubts the USS Dwight D. Eisenhower battle group, due down late next month, will be able to use Vieques.
"For her, I don't know how they're going to do it," Stark said. "It's something everybody I know is concerned about. And without Vieques, I don't see how they can get the kind of training they need."
As the debate wears on and political pressure converges on the White House, analysts say they see the Navy fighting a losing battle.
Some, including Stark, say it's not unlikely the fate of Vieques will be the same as the smaller Puerto Rican island Culebra, where a similar eruption of protests forced the Navy to shut down training operations in 1975.
"This is an orgy of nationalism that is essentially cultural and symbolic," said Juan Manuel Garcia Passalacqua, a Puerto Rican political analyst and author. "I agree the Navy is fighting a losing battle. I don't foresee any compromise."
He said the Navy is unlikely to survive the probable islandwide demonstrations that would follow the arrest of protestors camped out on Vieques.
Other analysts say with Hillary Rodham Clinton as a likely Senate candidate from New York, where there's a large Puerto Rican population, the president may be less inclined to side with the Navy.
"It's not clear to me that the Navy's going to win this," said a congressional source tracking the issue. "The White House may do everything they can to avoid the anger of Puerto Ricans."
In the final outcome, however, neither the Navy nor the protesters might end up clear winners or losers. As the Rush Commission, which Puerto Ricans have charged is unfairly tilted toward the Pentagon, nears its decision, some smell a compromise.
And the Navy has signaled its interest in reaching a settlement.
Stark and other officials have said they would consider turning over the western edge of the island, reducing the number of live-fire testing days and working closer with the island's leaders to increase economic opportunity and environmental-preservation efforts.
But with Puerto Rico's attorney general threatening to take the Navy to court over Vieques if the issue isn't otherwise resolved and protesters such as Ventura making himself comfortable with such amenities as a small chapel, a healthy store of food and many supporters to pass the days playing dominoes, Puerto Ricans say they will settle for only one outcome.
"The Navy must leave," Ventura says. "There's nothing else to talk about."
Copyright, Defense Week